Our Guarantee:
☑️Order Processed in 24hrs
☑️Free shipping
☑️Tracking number for all orders
☑️Safe payments via Paypal®
☑️24/7 assistance shop@coolcrownstore.com
☑️Further discount at checkout: SUMMER5%OFF

 Free Shipping Worldwide
This Slip-on Car Window Cover is made from flexible and stretchy mesh material and will not damage or scratch your car's paintwork. Installation is very simple. Just slip it on!
The Car Curtain can prevent you, your family, and car interiors from the harm of UV rays effectively. It is opaque, provides good privacy, the passers-by can't see anything through the window.
Features:
It covers the entire window for 80% UV protection
Improves airflow inside the car
Fits all car window types and it is manually adjustable
Roll down window with ease
No hooks or clips required
Clear view from inside the car, vision is not impaired.
Eliminates suns harsh rays
Protect your pets, children, and elderly ones!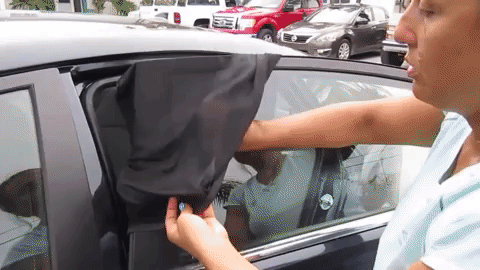 Package Includes: